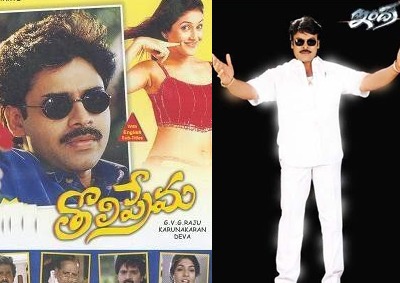 24th July is said to be a very special day for mega brothers Chiranjeevi and Pawan Kalyan. Pawan Kalyan's 'Tholiprema' was released on 24th July, 1998 and Chiranjeevi's 'Indra' movie was released on 24th July, 2002. Check out the details of those movies.
THOLIPREMA: This was the first blockbuster in the career of Pawan Kalyan. This romantic entertainer is considered to be the trendsetter, as many movies have been made with the similar concept after the release of 'Tholiprema'. This movie ran 100 days in 21 direct centers and 200 days in 2 centers. In Sandhya 70mm of Hyderabad, this movie ran for 218 days while in Liberty theater of Guntur, this movie ran for 225 days. This movie received 6 state Nandi awards and one national award for best popular feature film.
INDRA: This was the 8th industry hit of Megastar Chiranjeevi. This faction based movie collected an all time record share of Rs.33 crores( including satellite and audio rights) and broke the previous record share 24 crores, collected by 'Khushi'. Interestingly, this movie created all time records in 50 days, 100 days and 175 days as well. This movie ran 50 days in 156 direct centers, 100 days in 118 direct centers and 175 days in 32 direct centers.